If you have been following the news since Nokia sold their mobile division to Microsoft, you will know that it was said that Nokia will come back to the smartphone business in 2016. So we have been always expecting Nokia to do the grand comeback, after the agreement with Microsoft had expired.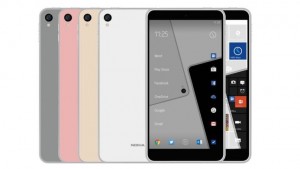 We have since seen pictures of the Nokia C1 which is said to be an Android-powered smartphone. This was after Nokia technologies launched the Nokia N1 an Android-powered tablet.It is Nokia's first mobile device since the sale of its original mobile phone business to Microsoft and it was released in China on 7 January 2015.
Recently we have seen the emerging pictures of a mysterious phone with the Nokia name on it. The leaked pictures show an all-metal Nokia smartphone. According to an unknown source the device could have a long life battery, something we know Nokia to be good at.
The black/grey phone in the photo is the one we're talking about here, not the white phone which is the Nokia XL smartphone launched back in February 2014.
It is believed that the phone will be called Nokia 235, which will be coming with the S30 Asha software. Something to take note of on the picture is the alpha-numeric keyboard, which again confirms that this isn't the Nokia Android phone we are waiting for.
Specs:
If the source is to be believed, the Nokia 235 (RM-1182) will has 3G connectivity, dual-SIM support and with a rear camera and LED flash. Considering the fact that Nokia XL comes with 5-inch display, this can suggest that the Nokia 235 might just come with 4-inch display.  Taking a closer look at these pictures, it's noticeable that this device is pretty thick.
This phone is just a feature phone and the Nokia Android smartphone will also be coming this year
Via: mobipicker, ithome & pocketnow
Tell us how can we improve this post?